Cyrel® FAST DFR High Durometer Digital Plate
DuPont™ Cyrel® DFR is the high durometer plate for the DuPont FAST thermal platemaking process, designed to meet the needs of high quality flexo with finest halftone, linework and solids. DFR is very robust on press and provides an exceptional balance between high image resolution and wide tonal range.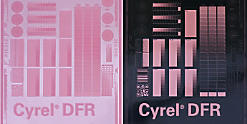 Applications
Flexible packaging

Tag & Label

Pre-print Liner
Product Features

Extremely rapid access time due to thermal plate processing (not drying step needed).

High ink transfer for outstanding tonal reproduction.

Image relief is clean and sharp for all plate gauges.

High durability and clean printing for long, uninterrupted press runs.

Exceptional thickness uniformity. No plate swelling during platemaking.

Less make ready time on press, comes up to color quickly.

High resistance to ozone and white light results in excellent storage capability.

For optimum performance, we recommend Pixel+.