DuPont is extending its chemical protective solutions with the introduction of a new Tychem® gloves range.
The Ebola crisis and the escalating fight against untreatable bacterial and viral diseases show no signs of abating and point towards a new level of risk for paramedics and other emergency responders.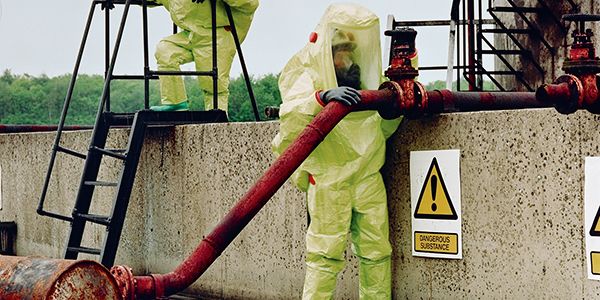 In emergency response situations, it is critical to ensure that personnel are fully protected from any risk of exposure to toxic or corrosive substances. DuPont has therefore introduced the new Tychem® TK full encapsulation suit.
The key objective of a business is to generate profit for its shareholders and, as a general rule, to increase capital in the long run. Here, the number of probable and possible losses in a value chain becomes greater with larger businesses and with equipment that remains in operation for longer periods of time. One of the key questions arising at top management level in companies is where to invest resources: in performance improvement or in reliability enhancement?
Learn how industrial corporations in Russia and around the globe can overcome challenges in transformation.
Production safety is a priority task for any industrial enterprise. This matter is particularly important for managers of complex production facilities with high potential of emergencies or accidents. Safety assurance is a non-stop process that must involve highly skilled professionals and that requires continuous management's attention.
Learn how DuPont can help your company protect value and manage risk through our PSM Learning and Development offerings.
With a global reputation for innovation and development in inherent, multi-hazard protection for a variety of thermal hazards, DuPont Nomex® MHP fabric will be on display on the DuPont booth at this year's A+A (Hall 05-A40). This fabric represents the next-generation of protection against heat and flame, arc flash and small molten metal splashes for industrial areas.
Garments made of Nomex® fibre have helped protect firefighters for decades. Continuous exhaustive testing proves that they excel in the long-term retention of their heat and flame protective qualities.
Today's firefighters need to be able to optimise budget vs. performance, without compromising on safety. For decades DuPont™ Nomex® fibre has demonstrated lasting protective performance, while helping to minimise repair and maintenance costs.
Heat stress is a dangerous condition in any situation, but for firefighters it can be especially life threatening. In fact, heat stress is the number-one cause of casualties among firefighters. Nomex® fibre helps reduce heat stress due to its higher air permeability.
To facilitate the choice of mechanical (cut) protective clothing, both the American National Standards Institute (ANSI) and the European Union (EU) have developed cut standards for selection criteria.
No results founds