Impact Resistant Plastic Helps Make Sporting Goods Stronger
DuPont™ Delrin®, Zytel® and Hytrel® are helping make sporting goods stronger and safer, from snowboard bindings to performance skis and protective helmets.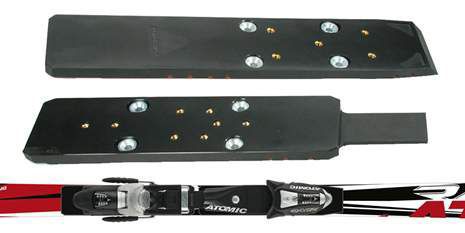 DuPont provides impact resistant plastics with low and high temperature resistance, UV stability, and lower weight for a range of sporting goods for all seasons. Light-weight strength helps to protect users and their gear, while manufacturers can gain design flexibility, lower production costs and better performance.
A Better Fitting Helmet
Helmet manufacturer DXL-Protection chose DuPont™ Zytel®nylon resin for its high resistance, stiffness and toughness. The super-tough nylon is reinforced with 33 percent glass-fiber. The four helmet parts made of Zytel® are the top shell, the C-shaped "strap" around the head and two lateral shells. Their patented four-part design allows the helmet to fit the head better than a conventional one-part helmet.
The helmet's external components are like an armadillo's shell, giving flexibility and greater comfort, with better protection. The design also creates a slimmer, high-tech profile, creating a more stylish look for the wearer. The helmet meets EN 1077 (European) and ASTM 2040 (American) safety standards for shock absorption, penetration and other characteristics.
A Renewably Sourced Ski Boot
DuPont™ Hytrel®RS thermoplastic polyester elastomer is selected by ski boot manufacturers due to its  strength and durability properties, while offering a more environmentally friendly solution than products that are entirely petroleum-based. The impact resistant plastic has been developed using a renewably sourced polyol derived from corn sugar or other renewable sources, and contains between 20 and 60 percent renewably sourced material. 
A One-Piece Bicycle Wheel
TAG Wheels used DuPont™ Zytel® to make a one-piece FRX5 bike wheel that optimizes structural strength, impact resistance and functionality. Wheel wall sections vary in thickness to provide additional strength and stiffness where needed. Each spoke has an internal rib. The hub shell is a robust, thick-walled construction, and it's keyed, to optimize shear resistance and torque transfer. Other advantages of the FRX5 over traditional wheels include fewer flats, reduced flat spots and less maintenance. It never requires truing, tension or alignment procedures needed for wire-spoke wheels. The single component design also saves on production costs and inventory.
A Ski Binding Made Simpler
A ski binding made using DuPont™ Zytel® nylon and DuPont™ Delrin® acetal resin weighs 20 percent less than a conventional lightweight binding, and the non-stick quality of Delrin® reduces snow accumulation. The innovative, yet simple design substantially reduces the number of individual parts in the whole toe-piece, compared to conventional designs with their separate metal dowel pins. Fewer parts mean less manufacturing time and lower costs.
Performance is also part of the package across a range of sporting goods applications. Both Zytel® and Delrin® maintain their high impact resistance and strength over the entire temperature range of –40 °C to +40 °C. Their scratch-resistant, high-quality surfaces offer a breadth of color freedom.