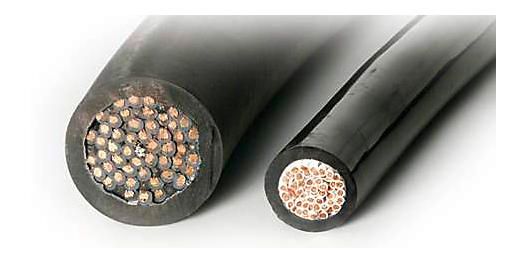 Thinner, Stronger, Lighter Cable Insulation and Jacketing
 
DuPont specialty elastomers support strong and lasting connections from data transmission and electrical applications to bridges and robotics.
Insulated and jacketed cables can now be made thinner and stronger, using a range of DuPont cable insulation materials.
From enduring extremes of heat and cold to resisting a variety of chemicals, including oil and grease, better-performing insulation can mean better connections. DuPont insulated cable and jacketing materials are halogen-free and flame-retardant, and can provide strength in thinner layers for constant flexing applications.
The Right Materials for Each Project
DuPont application resources worldwide work closely with wire and cable manufacturers to help them identify the best solution. Our wide range of extruded thermoplastic and thermoset products and grades for cable insulation include:
Thermoplastic Materials
Hytrel® thermoplastic polyester elastomer
Uses: Copper insulation and jacketing; fiber optics; off-shore umbilical; low voltage; constant movement applications.

Low-temperature flexibility (-70°C, -70ºF) and higher-temperature rating (125°C, 257ºF) vs. PP, PE, PVC; coil cords (retractile cords);Underwriter Laboratories (UL) appliance wire rated (AWM) to 105°C (221ºF) and 125°C (257ºF) UL.

Corona-resistant.

Excellent performance in oil, grease and other chemicals.

Halogen-free.
Zytel® nylons
Thermoset Elastomers
Neoprene
Uses: Jacketing for copper cables used in power, mining, oil well, nuclear and military equipment.

Low-temperature flexibility (-55°C, -55ºF) and high-temperature rating (90°C, 194ºF).

Excellent resistance to water, oil grease, ozone weathering, and fungus degradation.
Viton®
Uses: Copper insulation and jacketing in low-voltage applications.

Low-temperature flexibility (-20°C, -20ºF) and higher-temperature rating (200°C, 392ºF).

Excellent chemical resistance and low permeation rates in fuels, hydrocarbons.
Vamac®
Uses: Jacketing for copper cables used in automotive ignition and transmission wire; control and signal cables in automotive, railway and military; low-voltage applications.

Low-temperature flexibility (-35°C, -35ºF) and higher-temperature capabilities (160°C, 320ºF).

Corona-resistant.

Excellent performance in oil, grease and other chemicals.

Non-Halogenated Flame-retardant Compounds.
Processing Aids/Additives
Viton® FreeFlowTM –

processing aid for polypropylene and polyethylene, eliminates melt fracture and die buildup, improves surface quality and output rates.

Hytrel® —

additive to PVC— provides improved low-temperature flexibility, improved flex/fatigue properties, and improved low-temperature impact.
Slim, Flexible Strength
Hytrel® thermoplastic polyester elastomer is often chosen to provide a slimmer profile for insulated cables. This can support weight and cost reduction, easier routing through tight spaces, and a tighter bend radius.
Commercial applications using Hytrel® range from small appliances to drawbridge cables. The flex-fatigue properties of Hytrel® make it a material of choice for constant movement applications, such as robotics, coil cords, sensors and other industrial uses.
Hytrel® has also been used for decades in transatlantic fiber-optic cables and other off-shore applications.
Durable Nylon Solutions
Zytel® polyamide can be extruded over PVC and other plastics as a thin, durable outer layer of insulation. Zytel® LCPA has been effectively used as a drop-in replacement for Nylon 11 and Nylon 12 in industrial applications, where flexibility and chemical resistance needs cannot be met with traditional Nylon 6 and Nylon 6,6 offerings.
Reduced Die Build-Up
Viton® FreeFlowTM is a high-performance additive used to help reduce die build-up during the manufacture of cable insulation made from polyethylene, EPDM, and other olefins. Die build-up deposits typically impair production rate and surface quality, and both can be minimized when using Viton® FreeFlow™.
Improved Low-Temperature Flexibility
Certain grades of Hytrel® can be added to PVC to provide a significant improvement in low-temperature flexibility. Hytrel® also improves the flex fatigue and low-temperature impact properties of PVC.
Versatile, Cost-Effective Solutions
Neoprene polychloroprene has been used for jacketing cables since the 1930s for its many advantages over natural rubber jacketing, including resistance to heat, weather, ozone, flame, oil, hydrocarbon fluids, and a broad range of other chemicals. It's also tough and resists cracking and abrasion, extending the life of the cable. Neoprene remains a tested, cost-effective choice for military, nuclear, oil well and mining cables.
Superior Thermal and Chemical Resistance
Compounds made with Viton®  fluoroelastomer deliver durable performance in low-voltage insulation and jacketing, since it's resistant to high temperatures and aggressive fluids. Viton® compounds perform excellently in gasoline, diesel, biodiesel, and other aggressive fluids.
Low-Smoke Emission
Compounds made with Vamac® ethylene acrylic elastomer are halogen-free and can be used for low-smoke, flame-retardant cable jackets. Because low-smoke cables help reduce emissions during combustion, they're often used in minimally vented areas.
Overall, DuPont offers a comprehensive range of plastics and elastomers available for consistent performance, protection and cable longevity.