DuPont is extending its chemical protective solutions with the introduction of a new Tychem® gloves range.
DuPont has added more innovations to its protective garment range with enhanced design features that offer improved personal protection while ensuring comfort and ease of movement for the wearer.
Sanitation and cleaning operations on site involve risks for the operators. In accordance with its safety procedures, S.G.A.-J. Meyer recently called on DuPont to replace all its protective clothing, opting for the new DuPont™ Tyvek® 800 J garment.
The technical development of protective fabrics and garments has, quite rightly, been performance-led. But with highly effective protection now available for the majority of industrial, medical and environmental risks the focus is turning to improving the wearability of safety clothing and accessories. The new Tyvek® 800J limited-use chemical protective garment combines Tyvek® fabric breathability with 'Type 3' protection against pressurised jets of liquids and water-based chemicals.
Dusseldorf, 5 November 2013. DuPont, specialists in innovative body protection, is introducing at A+A 2013 a new Tychem® coverall that provides a new alternative for workers seeking safe and comfortable protection in more demanding applications.
Learn more about the correct procedures for the donning and doffing of personal protective coveralls.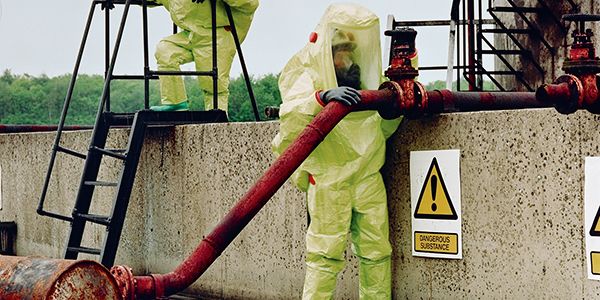 In emergency response situations, it is critical to ensure that personnel are fully protected from any risk of exposure to toxic or corrosive substances. DuPont has therefore introduced the new Tychem® TK full encapsulation suit.
There are multiple protection needs to consider when choosing chemical protective garments. Performing a thorough workplace risk assessment is essential to selecting safe, comfortable and compliant chemical protective clothing for industrial workers.
DuPont provides excellent garments for workers that may be exposed to a multitude of chemical hazards and helps customers to address their needs. Precisely understanding work-related hazards assists safety managers in making their selection from a wide range of PPE products.
Workers can be exposed to a multitude of hazards, from chemicals, dusts, radioactive particles, fibres, dioxins and lubricants, to biological and phytosanitary substances. DuPont assists safety managers in making their PPE selection and provides excellent chemical protective garments.
No results founds