DuPont™ Tychem® F Accessories – When You Need Added Protection
Tychem® F accessories are specially designed for use with our range of Tychem® apparel.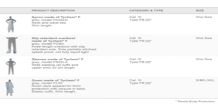 View Media
The image caption is not restricted in its character count.
In combination with chemical protective clothing, these innovative sleeves, aprons and boots can help offer enhanced protection for body parts that are more exposed to hazardous substances.
More information about Tychem® F accessories available in DuPont™ SafeSPEC™.
Product Information
Product Data Sheets (5)
Additional Information (16)
INFORMATION & IDEAS
Workers can be exposed to a multitude of hazards, from chemicals, dusts, radioactive particles, fibres, dioxins and lubricants, to biological and phytosanitary substances. DuPont assists safety managers in making their PPE selection and provides excellent chemical protective garments.

There are multiple protection needs to consider when choosing chemical protective garments. Performing a thorough workplace risk assessment is essential to selecting safe, comfortable and compliant chemical protective clothing for industrial workers.

Learn more about the correct procedures for the donning and doffing of personal protective coveralls.

DuPont provides excellent garments for workers that may be exposed to a multitude of chemical hazards and helps customers to address their needs. Precisely understanding work-related hazards assists safety managers in making their selection from a wide range of PPE products.

In addition to providing product protection, Tyvek® and Tychem® also meet the requirements of Category III for personal protection from chemicals.
Prev
Next