DuPont is extending its chemical protective solutions with the introduction of a new Tychem® gloves range.
DuPont has added more innovations to its protective garment range with enhanced design features that offer improved personal protection while ensuring comfort and ease of movement for the wearer.
A+A 2013 marks the market launch of the new Tyvek® 800 J coverall by DuPont, the specialists in innovative body protection.
DuPont protective garments provide reliable protection of workers as well as sensitive pharmaceutical processes and products, based on scientific expertise in people protection and unique properties of the lightweight and durable Tyvek® fabric.
Dusseldorf, 5 November 2013. DuPont, specialists in innovative body protection, is introducing at A+A 2013 a new Tychem® coverall that provides a new alternative for workers seeking safe and comfortable protection in more demanding applications.
Touch any garment from the comprehensive DuPont ™ Tyvek® product range and you immediately notice the difference. Antistatically-treated Tyvek® is a unique and versatile material that is tough and exceptionally low-linting, yet extremely light and soft. It is permeable to air and water vapour, yet repels water-based liquids and aerosols, as well as fine particles and fibres.
DuPont introduces Professor Victor Tytonius, the cyber scientist who specialises in worker protection and chemical protective clothing and materials.
A+A 2013 marks the market launch of the new Tyvek® 800 J coverall by DuPont, the specialists in innovative body protection.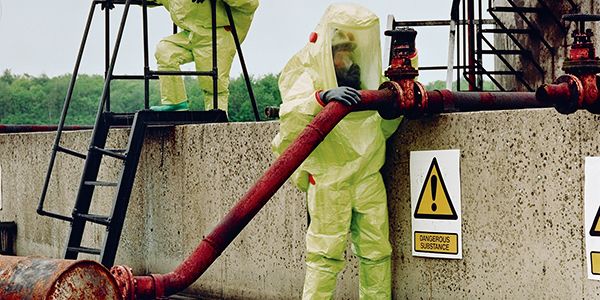 In emergency response situations, it is critical to ensure that personnel are fully protected from any risk of exposure to toxic or corrosive substances. DuPont has therefore introduced the new Tychem® TK full encapsulation suit.
The DuPont™ Nomex® Brand Filtration Quality Partner Programme is a carefully-selected network of EMEA customer-oriented felt producers and bag manufacturers whose felt/bags pass stringent quality control of DuPont and who are empowered to provide ideal products and services to asphalt, cement and metal industries.
DuPont™ Nomex® spunlaced filter helps to dramatically reduce lead particle emissions in a glass industry production filter.
In the cement industry, DuPont™ Nomex® KD helps provide better filtration and dust retention, with greater reliability at lower energy and material costs.
No results founds