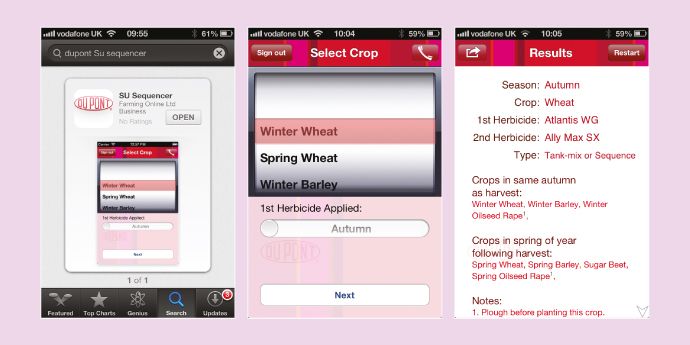 DuPont SU Sequence APP – Instructions for use
To download the free app from the i-tunes store, please click on the link below:
https://itunes.apple.com/us/app/su-sequencer/id583320780?ls=1&mt=8
To download the free app from the Android store, please click on the link below:
https://play.google.com/store/apps/details?id=farming.herbicide.dupontappp&feature=search_result#?t=W251bGwsMSwxLDEsImZhcm1pbmcuaGVyYmljaWRlLmR1cG9udGFwcHAiXQ
You will be asked to register, but this is a once only procedure and you will be sent a unique passcode via e-mail. Please retain your passcode for future reference.
TIP: enter only the first line of your address without any commas, full stops or special characters. If your post code is not recognised it means it is not matching with the Royal Mail database - please try changing the last letter of the post code until you find one that works.
To use the app:
Select crop and season of first applied herbicide.
Click next.
Using the scroll barrel, select the first herbicide.
Select the season of the second applied herbicide.
Click next.
Use the scroll barrel again to select the second herbicide.
Click next.

The app will then give you information on the herbicide combination selection, together with following crop information and other notes as appropriate.
You can keep this as a record by e-mailing it to yourself, via the forward button on the top left hand corner.
To carry out another search, click on the restart button at the top right hand side.
During your search, you can press the phone button, which will dial the DuPont technical helpline directly.
Note: There is a sign out button. If you sign out, you will have to re-enter your passcode the next time you visit the site. Often it is easier to press the home button to exit. You can then re-enter the site without the need to enter your passcode.
The information provided on this website is for reference only. Use plant protection products safely. Always refer to the product labels for complete details and directions for use.