Design a Kitchen with Corian®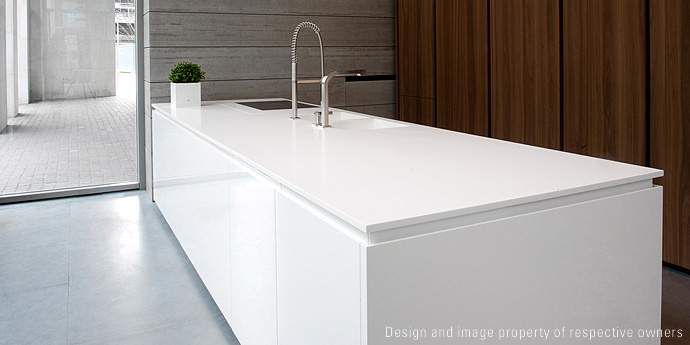 Design a Kitchen — First Things First
Designing a kitchen for your home should be a fun and fulfilling experience. Whether you are simply replacing your worktops, removing and re-doing your entire kitchen, or building a whole new home, smart planning can help you achieve the best results possible from a DuPont™ Corian® solid surface.
What's Your Personal Kitchen Profile?
When designing a kitchen, begin with an honest review. Ask yourself what you like and dislike about your present kitchen, and how you intend to use your kitchen in the future. Are you a fire-on-all-burners gourmet or a more casual, occasional cook? Is the kitchen a family living area - does space need to be availablefor computers, a TV, a homework area, and maybe a breakfast bar?
What's Your Time Horizon?
How long are you planning to stay in your home? If you plan on selling your home in the near future, it's not a bad idea to talk to a realtor about optimising your kitchen for sale. For example, a cosmetic upgrade, say, a simple countertop replacement with a conventional color scheme, might be the most effective option. On the other hand, if you're all but married to your space, with no intention of moving on anytime soon, then unleash your creativity and really express yourself.
Make a List
Make a list of the elements you are certain you will need, such as sinks, backsplashes, and a breakfast bar/seating areas. Then, take careful measurements. Have your list, a sketch or floor plan of your kitchen, and your measurements handy when you visit your retailer.
My Room Designer
DuPont has created a simple yet powerful tool to get you visualizing all the possibilities when designing your kitchen. Our Room Designer tool can help you turn your most imaginativel kitchen design into reality.
Well done for giving your kitchen renovation project the critical advantage of some smart planning. And it will surely pay off. You're about to make your kitchen a room to be proud of.